We aim to bring to our customers a range of threads and notions that are of the best quality and at the best prices. Link to our Face Book page to get updates on products.

We wish you all a very creative and happy 2018.
We are now taking a break till 24th January so all orders will be packaged up ready for the courier the morning of the 25th January. Thank you all so much for your support over this last year, we have been so happy to supply you with your notions and quilting needs.
There will be more new notions and fabrics coming in February.
We are authorized re sellers of Superior Threads and Products by Bob Purcell, President of Superior Threads. Superior Threads are fantastic quality, low lint, and colour fast.
The Cotton Threads are made of 100% Short Staple Egyptian grown cotton, all threads are fully guaranteed.
If your choice of colour is not right we will exchange for another, please return Spool/Cone with self addressed envelope to return the exchange. The original purchase spool must be unopened and sealed in the protective covering.
The Westalee Ruler foot is ordered specific to the Brand and Model of each machine. We will contact you for this information.
We aim to keep our quality products at the best price possible for all our customers, we believe our customers will agree it is worth the wait should there be a delay in delivery. We adjust our prices to keep up with the increasing costs of freight and exchange rates to maintain fair and reasonable prices for our customers. There are delays on delivery of some Westalee products due to demand from the Manufacturer.
Sponsers New Zealand National Quilt Symposium 2015
Sponsers New Zealand National Quilt Symposium 2016
Sponsers New Zealand National Quilt Symposium 2017
Sponsors Aotearoa Quilters 2016
Sponsors Festival of Quilts 2016.
Sponsors of Festival of Quilts 2017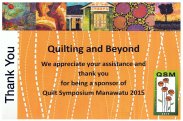 ---
---
The Two of Us.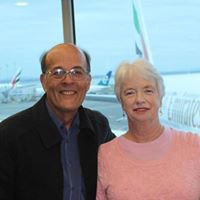 Grahame and Raewyn.