We aim to bring to our customers a range of threads and notions that are of the best quality and at the best prices. Link to our Face Book page to get updates on products.

We have been advised by Superior that the Variegated Rainbow thread will be discontinued. Still available until all sold.
We are authorized re sellers of Superior Threads and Products by Bob Purcell, President of Superior Threads. Superior Threads are fantastic quality, low lint, and colour fast.
The Cotton range is made from 100% Short Staple Egyptian grown cotton, all threads are fully guaranteed.
The Range of Colours, Weights, Cottons, Silks and many others are easy to find.
Click on Superior Threads, then on the banner of the thread type, for example King Tut.
The information about the thread is shown and scrolling down will display the colours, click on the colour you like and there you will see the colour combination to make up the variegated finish of colours. This is the same method to see Rainbows, and any other variegated thread.
MAGNIFICO EMBROIDERY THREADS ON SPECIAL.
If your choice of colour is not right we will exchange for another, please return Spool/Cone with self addressed envelope to return the exchange. The original purchase spool must be unopened and sealed in the protective covering.
Our Notions are updated regularly as new products become available;
We now have a selection of Fat Quarters and Backing Fabrics.
The new award winning Ruler foot and template rulers specially designed for domestic machines have arrived.
These are ordered specific to the Brand and Model of each machine. Please ensure you contact us before you order to ensure the correct size is selected.
You are very welcome to visit, bring your fabric along to match the best thread and colour to suit your project, give us a call to make a time to view the threads and our other products. Or we could come to you, we love visiting the Quilting Guilds and working groups.
Our face book page has educational material and articles, the videos are fun, and shows works by quilters and quilt artists.
We aim to keep our quality products at the best price possible for all our customers, we believe our customers will agree it is worth the wait should there be a delay in delivery. We adjust our prices to keep up with the increasing costs of freight and exchange rates to maintain fair and reasonable prices for our customers.
We were delighted to provide sponsorship to the New Zealand National Quilt Symposium held in Palmerston North 2015 and to make a prize donation for Aotearoa Quilters held in Rotorua 2016.
We were very happy to sponsor the Viewers Choice award chosen at the Festival of Quilts 2016.
We are one of many sponsors of the New Zealand's largest and most vibrant Quilt Symposium to be held in Christchurch 5th October to 10th October 2017.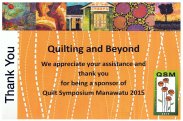 ---
---
The Two of Us.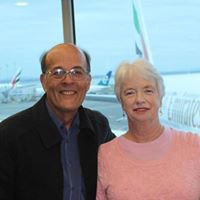 Grahame and Raewyn.