Create with the best quality Threads and Notions.
Unfortunately we are still experiencing freight delays, we do our best to package and courier quickly. This is beyond our control and we expect it will take some time before we get back to some normality, as long as Covid-19 stays away now we are waiting on vaccinations.
We are here for you, whether a sewer, quilter or artist. If you are looking for a product? Using the search feature will make finding it easier, call or email us if not showing on web site.
Textile Art and fabric painting are products we are hoping to have in the future and have access to some items, Fabric Glue, Gutta, Paints, Dyes, resist and various other supplies. Contact us if its not on our site we will get it for you depending on availability.
Grahame and Raewyn are totally dedicated to customer service, your order is dispatched by courier as soon as possible, if not in stock we will let you know. At times there can be delays with deliveries from our suppliers due to the continuing devastation caused by Covid-19.
CONES- We do not stock large quantities of Cones so please ensure you order and allow time for delivery. We do stock a minimum of 2 spools in each of the other Superior Thread brands.
Raewyn and Grahame welcome customers to visit our stockroom to view all products and threads.
Raewyn and Grahame Clark.
---
The Two of Us.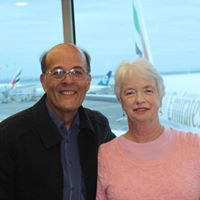 Grahame and Raewyn.