Create with the best quality Threads and Notions.
There are delays for delivery on these very popular Sewing Cabinets due to high demand.
Superior Threads, Westalee Products, Ruler foot and Templates. (please ensure you advise us of your machine type and model) Notions, a large range of everyday notions, Cutting boards, Rotary Cutters, Blades, Fat Quarter Fabrics, Kits, and many more.
NEW: Superior Threads have developed a fantastic range of 2000 Yard Cones of their Omni Variegated Poly Core Threads for Long arm, Domestic Sewing Machines, and for all decorative finishing.
We do hope you enjoyed your experience at the Symposium, the classes and Tutors were great, exhibition and challenges on show were all amazing and such a delight to see such talent.
We were so happy to sponsor the Symposium this year, and as always will always be happy to visit Guilds/Groups no matter how big or small, bringing our selection of products to you.

Browse through and if you are not able to find what you need let us know so we can get it for you, whenever possible we source our stock through New Zealand Wholesalers as we must support our KIWI businesses too many of the Quilt Shops we know and care about are closing down.
View our range of fabrics in various cut sizes, both in metric and imperial.
Grahame and Raewyn are totally dedicated to customer service, your order despatched by courier as soon as possible, if not in stock we will let you know. At times there can be delays with Superior Threads and Tailormade products.
Dear Customer, please order your cones ahead of time. There are many colours in each type of thread so we do not hold them in stock as we work from home.
Superior have released new colours in the King Tut range, have a browse.
Customers are welcome to call in and visit, we have a small showroom with all the Threads and Notions on display. Call first to make sure we are here to serve you.
Raewyn and Grahame Clark.
For all your wide backing fabrics visit Fatbacks NZ.
---
The Two of Us.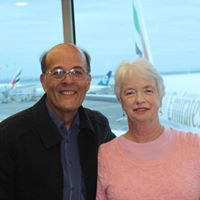 Grahame and Raewyn.