Create with the best quality Threads and Notions.
Covid19 is now impacting on New Zealand business's with the high exchange rates, delivery of stock to our Wholesalers and financial challenges for all, be kind and take care.
Looking for a product? Using the search feature will make finding it easier, call or email us if not showing on web site.
Soft and Stable - By Annie is in stock, our local supplier has received a shipment, great news.
Creative Grid rulers have been delayed, our local supplier has advised a new shipment is due any day.
We support and purchase our products from New Zealand owned business's where ever possible.
Grahame and Raewyn are totally dedicated to customer service, your order is despatched by courier as soon as possible, if not in stock we will let you know. At times there can be delays with Superior Threads and Tailormade products.
Mary Allen's Best Press Spray is the best thing for fabric ever and is on special. A clear starch and sizing alternative, very safe on fabrics, no shine, very subtle fragrances, acid free.
Dear
Customer, please order your cones ahead of time. There are many colours in each type of thread.
Rainbows variegated threads are discontinued, we have most colours still in stock for now.
Customers are welcome to call in and visit, we have a small showroom with all the Threads and Notions on display. Call first to make sure we are here to serve you.
Raewyn and Grahame Clark.
---
The Two of Us.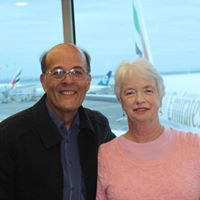 Grahame and Raewyn.