Superior Sewing Machine Needles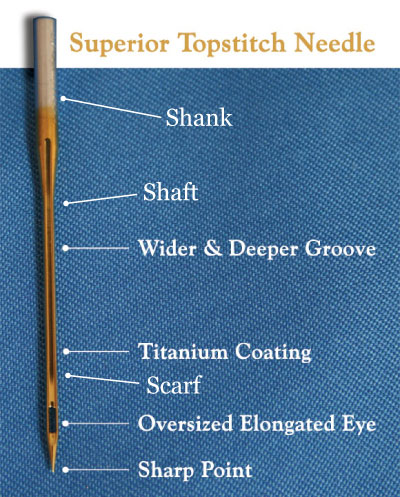 All Superior needles suit all sewing machines, Titanium coated for extended life and stay sharp.
For all Piecing, Quilting, Applique, Embroidery and Decorative Stitching.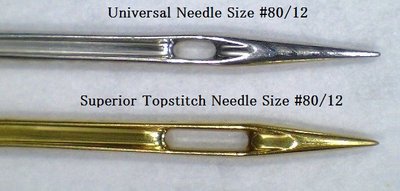 For Size #70/10 - #100, 60 wt., & MonoPoly.
For Size #80/12 - #50 (50 wt.) threads.
For Size #90/14 - #40 (40 wt.) threads.
For Size #100/16 - #30 (30 wt.) threads and thicker.Titanium-coated needles have been available for longarm and industrial machines for many years but these are the first titanium-coated Topstitch style needles made for home machines. Superior Threads (USA) and Organ Needle Company (Japan) have applied the latest technology of titanium-coated needles to the Topstitch style for home machines. Because these titanium-coated needles have an ultra thin coat of titanium nitride, they will stay sharper longer and outlast any current Topstitch needle on the market.
Why Topstitch? The Topstitch needle is the most common needle type used and recommended by professionals and educators. We recommend the Topstitch for piecing, quilting, embroidery, appliqué, and construction. These needles are available in four sizes to accommodate all thread types, including metallic threads. The Topstitch needle has a larger eye and deeper groove. It is often referred as the MAGIC NEEDLE. It really does make a difference in your sewing experience.
Used with permission from Bob Purcell Superior Threads. www.superiorthreads.com
Found 6 products, showing product 1 to 6.